---
Jolene Cabbage
Jolene is our Secretary, who is likely to be the first person encountered when a client contacts the agency. Jolene handles many of behind the scene tasks, supports the staff in all programs, answers telephone contacts, assists clients and with paperwork and the problems that arise.
---
Brittany Garey, BS.Ed
Brittany has lived in Southwest Iowa most of her life. She began working for the agency the Fall of 2016. Brittany attended Northwest Missouri State University where she earned her Bachelor's Degree in Elementary Education with a minor in Early Childhood. Brittany is a Family Support Specialist, going into the homes of young families to offer them support and education from prenatal to age 5.
Brittany is also our Certified Lactation Counselor (CLC), she focuses on the importance of breastfeeding and overall health benefits for mom and baby.
Brittany has a passion for working with children and their families. She is willing to assist in any way that she sees fit. Brittany enjoys spending time with her family, going for walks, watching football, and spending time with her beagle fur baby.
---
Sandy Geer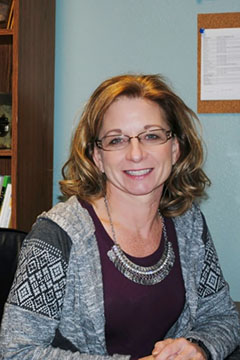 Sandy is knowledgeable about services and programs of the agency and will take preliminary information for services and as needed refer questions and problems to the appropriate staff for response. If she can't answer your question, she'll put you in touch with the person who can! Sandy, as Administrative Director, handles financial duties for the agency, grant writing, human resources, strategic planning and oversees all programs and services. She is committed to the essential and life changing services the agency offers.
---
Katie Gillespie-Jensen, LMHC, NCC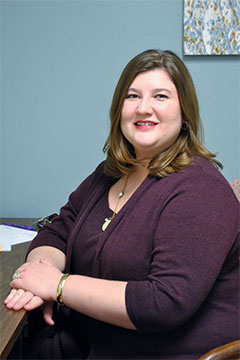 Katie joined Southwest Iowa Families in 2017. Katie is a Therapist and serves clients of all ages. Katie believes the foundation of meaningful therapy is a genuine relationship between the client and therapist, and strives to provide a comfortable and supportive environment. When working with families Katie has a passion for helping caregivers better understand the emotional and developmental needs of their children and for increasing family communication. Katie works from a strengths based perspective, and believes all clients already possess skills that can help them thrive.
Katie holds a Master's Degree in Clinical Psychology and a Master's Degree in Clinical Mental Health Counseling. Additionally, Katie has training in Christian counseling and can offer integrated therapy for interested clients.
---
Erica King, BS
Erica King is the Program Manager for the Positive Family Program and NEST. She is also the Preschool Mental Health Screening Coordinator. She has been with Southwest Iowa Families since August 2011. She started her college education at Southeast Community College earning an Associate's Degree. Erica then continued her education at Northwest Missouri State University earning a Bachelor's Degree in Child and Family Studies with a minor in Criminal Justice. Erica obtained her Master's Certification in Infant Mental Health. Erica is currently working towards her Master's Degree in Social Work at the University of Northern Iowa.
---
Rob Hickman, LMHC
Rob has worked in the community as a therapist for over 20 years, working with all age groups to enhance relationships, improve mental, emotional, and behavioral health of individuals and families. He has spent many of those years as a foster parent, and working with youth in a residential setting at the same time. Rob takes an eclectic approach with trainings in various Trauma, Cognitive/Behavioral, Client Centered, and Brief therapy approaches.
He returned to full time work here at Southwest Iowa Families after suffering from a stroke. "Though this has been a difficult time in my life, God has given me a new view of those suffering through debilitating illnesses and the mental and emotional strength that they have to live life to the fullest with their disabilities."
---
Dr. Gregory L. Keller, DO
Dr. Keller serves as Medical Director for Southwest Iowa Families, Inc. He consults and reviews complicated cases with staff. He is not seeing clients for medication management; however providers who have referred clients for evaluation or therapy may direct questions or concerns about their referral for Dr. Keller's review.
---
Nicolette McCullough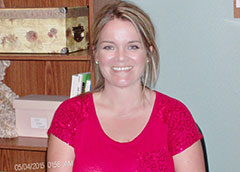 Nicolette is the Bright & Beautiful Beginnings Nest Coordinator for Fremont, Montgomery, and Page counties.
---
Lydia Rothfusz, LISW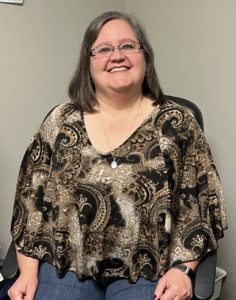 Lydia Rothfusz is a Licensed Independent Social Worker (LISW) with over 20 years' experience in social work. In addition to her work as a mental health therapist, she has worked as a medical social worker in hospice and home health care, and has served children and families as a direct-care clinician and in a supervisory capacity. Lydia is a strong proponent of growth mindset, and she approaches clients and their challenges from a strengths-based perspective. Lydia is open-minded and strives to be an active ally for the LGBTQIA2S+ community.
Lydia has been married for over 30 years and has four grown children and two grandchildren. Her parenting experience includes adopting an older child and supporting mental health challenges of children and teens. She has a wealth of life experience that she brings to her work with clients of all ages and various life challenges.
---
Berneeta Criss Wagoner, LISW, ACSW, QCSW, DCSW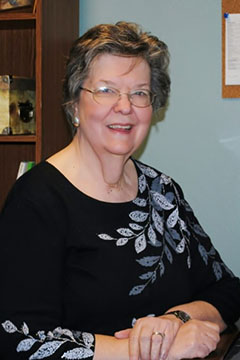 Bernie is the acting clinical director. She also is a Therapist seeing clients in the Clarinda locations. She has lived and worked in southwest Iowa over 30 years. She is a clinical social worker with advanced credentials as a diplomat in clinical social work. Her experience includes work in substance abuse, child welfare, mental health services, as well as the schools.
"A rural community is a great place to live and work", Bernie says "I would encourage other professionals to move away from the urban areas to experience the opportunities of rural practice." Bernie has a particular interest in serving children and families.
In 1985, Bernie was recognized by Iowa as "Social Worker of the Year," being recognized for her work with families impacted by child abuse and domestic violence in rural Southwest Iowa.
---
Angela Blair Wallick , LISW
Angela has been with Southwest Iowa Families since December 2009. Angela enjoys working with her own clients as a Therapist in helping them develop and implement realistic, long-lasting solutions. Angela is currently moonlighting with Southwest Iowa Families.
---
Cortney Young, LMSW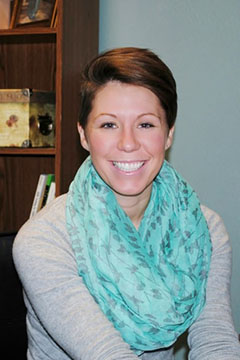 Cortney Young is stepping into a new role at Southwest Iowa Families. She is providing mental health therapy as she recently received her Master's degree in Social Work through the University of Iowa. Cortney Young is a Licensed Master Social Worker and therapist at Southwest Iowa Families. She also has a Master's degree in Early Childhood Education and has previously provided family support and behavioral health services through the agency. Cortney consistently works alongside children and their families, as well as other individuals of all ages and backgrounds, promising to listen and learn, and to advocate with her clients. She seeks to provide a warm welcome and inclusive space for everyone; and is a passionate ally and accomplice to vulnerable members in our community. Cortney appreciates her alone-time, walking and playing with her dogs, spending time with her family and at athletic events, reading, caring for her houseplants, and following Nebraska Volleyball – #GBR!